Manhattan
In East Harlem, an elderly couple who saved enough money to leave this expensive city and their NYCHA apartment to retire in a house they were able to afford in North Carolina were robbed by two masked men of their savings when they feigned to be from the housing authority and barged inside, shoved the woman on the floor with a gun drawn to her. Despite the woman's pleas to them to reconsider burglarizing them, she handed the crooks a safe containing $10,000. The woman now lives in a state of overwhelming despite NYCHA's bland reassuring press statement about the capability of their security cameras.
Again in East Harlem, a 61-year-old woman about to celebrate her birthday was killed crossing the boulevard by a hit-and-run driver.
In Herald Square, a man pulled out a gun and started shooting in front of a liquor store following an argument, hitting the man they had a dispute with and 2 passerby. The city has placed a NYPD command post on the street it happened on to maintain safety in the tourist-heavy area.
(Fooge by N.Y. Post)
Also in Herald Square at the 34th Street Station, a woman had her purse snatched by a man as she was about to give money to a homeless person.
In Harlem, a woman about to celebrate her birthday was killed by a hit-and-run driver as she tried to cross the street.
Also in Harlem at the 110 Street Station, a man trying to beat the fare entering throught the emergency door got caught by two cops and then tried to flee when he jumped on the tracks of the B/C line and ran south to 96th street, then got arrested by cops waiting there Turns out he was a fugitive from West Virginia with an attempted murder charge on him. The city better rethink it's new policy ordering cops to stop detaining farebeaters.
Again in Harlem, a man stalked an 83-year-old woman into her apartment building, watched her get her mail, rode the elevator with her, then knocked her down and robbed her purse when she was about to enter her apartment.
In Times Square, a man stole a Greyhound bus from the Port Authority Terminal.
In the Upper West Side at Riverside Park, a pregnant woman was attacked and punched in the face by a man who was yelling at her about letting her dog run around without a leash.
Also on the Upper West Side, a food delivery man was beaten and robbed by a gang of eight people as he locked up his bike.
Again on the Upper West Side, a man jogging on the side of a moving truck at 1 in the morning wound up under the back wheels as he ran straight into it.
In Chelsea, a gang of 16 wheelie popping bike riders were weaving and cutting off moving vehicles against traffic then harassed a driver and damaged his car by keying it and breaking his rear-view mirror and windshield. A livery driver whose car was damaged injured a beat cop after he made a u-turn to try to pursue the shithead cyclists.
In the Upper East Side, a man and his baby were attacked by a man trying to stab him with a knife.
In Midtown at the 57th Street Station, a man was stabbed by another man on the Q train.
Also in Midtown, a man and woman snatched a $95,000 necklace from the Lloyd's Gallery at 11 a.m..
Again in Midtown, a fireman punched his girlfriend in a chain pharmacy store. The culprit was previously fired by the MTA for fraud and was hired by the FDNY to boost diversity hires despite a horrible test score.
In Murray Hill, a U.S. Postal Service worker ran over 3 pedestrians as he backed up his vehicle.
In Washington Heights by the 168 St. Station, an imbecile killed himself after he fell off the train he was standing on top off.
Also in Washington Heights, a 75-year-old man walking his dogs in the early evening was attacked by a man who pushed him to the pavement and beat him down when he got upset that the victim looked at him.
In Gramercy Park, a construction worker fell 9 floors to his death when his safety line broke in an elevator shaft.
In the West Village at the 14th Street Station, a man was stabbed in the neck on the A train by a man while he was playing a video game on his phone.
In Yorkville at the 96th St. station, a homeless man was found dead on the Q train. Thus breaking the 2nd Avenue Transit Line's urban blight cherry.
In Penn Station by Madison Square Garden during the Grammy Awards weekend (told you lame ass Bruno Mars was gonna win), a cop doing security for the lame event was confronted by a man who attempted to take her gun and threw his laptop at her to get away.
In the Lower East Side, cops responding to a domestic dispute, forced entry into a woman's apartment who informed them they were at the wrong one, showed them her I.D. and left. Then they returned banging on her door, damaging the peephole then forced entry and wrestled her to the ground and cuffed her and drove her to Bellevue Hospital and put her in the psych ward. After her release, the next day the cops came back with officials from the Administration of Child Services and banged on her door repeatedly and then left. This is going to cost the city another half a million.
Also in the Lower East Side, a rapper who once shot and paralyzed a gang rival and tried to flee to Canada, arranged a rooftop party and video shoot that was kiboshed by the NYPD for trespassing, kicking out and arresting over 40 people who showed up. A gun was found stashed in the back of the building.
In Hell's Kitchen, a man beat up another man in front of a nightclub that was holding an event arranged by an alt-right group to celebrate Figurehead Trump's first year being President.
Also in Hell's Kitchen, a woman committed suicide by jumping from a luxury apartment building in broad daylight.
Again in Hell's Kitchen, a man driving out of the Holland Tunnel into the city was stopped by cops for being short of the fare and stoned while driving and found pellet guns and ammo in his possession.
In the East Village at the 2nd Avenue station, a jacket was found burning on the F train, shutting down service and causing reroutes on other transit lines.
Also in the East Village, a journalist from the NY Post argued and shoved a traffic cop for writing him a ticket for double parking.
Again in the East Village, kids playing with fireworks set a parked car on fire. Conjuring the spirited miscreant mischief of Johnny Boy.
In Stuyvesant Town, a man and woman sitting on a park bench were attacked by two men and a woman who robbed their cellphone, credit card and cash.
Also in Stuyvesant Town, a man committed suicide jumping from the roof of a 13-story building.
In Washington Heights at the Riverside Park, a man was found dead under a stairwell.
In Greenwich Village at an upscale fitness center, a man who works at the 9/11 Memorial, a government funded monument known for it's wine and cheese and conveys a theme park ride vibe, was caught by the feds stashing guns and rifles in his locker and dealing them at the gym with another man from Florida. (It's a bit late, but why didn't the memorial sell the wine for $9.11? Because places of interest always mark up the merch.)
Also in Tribeca at the Chambers St. station, a man was caught by a straphanger masturbating on the 1 train.
In the West Village, a homeless man taking a nap on the tracks of the 14th Street Station avoided certain death as the 3 train stopped just short of him.
In Kips Bay, a man working at a men's homeless shelter who got transferred there by the city for sexually assaulting two women residents at a shelter in Brooklyn, got arrested when a third woman came out and accused him.
Also in Kips Bay, a teenage male got his cellphone robbed from another teenager when he asked to use to call his mom.
In NoMad, a man bashed a beer bottle at another patron in a rooftop bar.
In the Flatiron District, a coat check girl punched two women as they tried to get their coats.
In Greenwich Village, a gang of four teenagers, one packing heat, mugged two men in two incidents and robbed one of his wallet and the other of his cellphone.
In Soho by the Holland Tunnel, a drunk driver flipped his vehicle by a fence at the exit.
Queens

Remember your umbrella.
In Maspeth, 2 men arguing on the roof at a house under construction led to one of the workers throwing a brick missing his colleague and wound up hitting a cop in the head who was there after neighbors complained that the owner was violating building codes. Sounds like they were digging a moat.
Also in Maspeth, a man beat up a gas station attendant and rummaged through his pockets and stole $78.
Again in Maspeth, a Mercedes Benz was found abandoned on the rocks submerged in the creek.
And again in Maspeth, two men involved in 9 home burglaries in the span of 2 months last autumn, stealing over $25,000 in cash and merchandise are still at large.
And again in Maspeth, a man bundled up in a hat and scarf held up a bank and robbed it of $1,165
In South Richmond Hill, a teenager was shot and killed on the street after he stepped out of his car.
Also in South Richmond Hill, two men broke into a home and zip-tied a pregnant woman and a man and fled with nothing, but caused trauma to the woman that she went into labor.
In South Ozone Park, three men were shot at as they were sitting in their car on a service road. One of them died and the killer is on the loose.
In Ozone Park, two men held up a deli at gunpoint and robbed $1,900 and the clerks cellphone.
Also in Ozone Park, a man preyed on a 72-year-old woman and shoved her to the ground stealing her wallet and her Medicaid card.
And again in Ozone Park, a man approached a 70-year-old woman, flashed a knife at her and robbed her of $100 and 6 grand worth of jewelry. He also was involved in an assault of a 37-year-old woman in Bushwick.
In Queens Village, a 65-year-old man was shot to death and found lying on a lawn of a house that has been inhabited by squatters.
In Astoria at Ditmars Park, a homeless man froze to death sleeping under the Hell Gate Bridge.
Also in Astoria at the 36th Street Station, a man punched a woman in the head while she was reading a train map.
In Jamaica at York College, a lab technician was busted selling cocaine in front of the school.
Also in Jamaica, a man exposed himself to a woman and demanded sexual pleasure from her in an apartment building laundry room.
Again in Jamaica, a 11-year-old child walking to school got hit by a bus and the driver kept going.
In Kew Gardens at the Queens Criminal Court, a man was arraigned of sexually assaulting and holding captive of a 16-year-old girl and forcing her into prostitution after he promised her a career in tattoo modeling.
In Jamaica Estates, a man with a ratty ladies wig held up a pharmacy at gunpoint that he robbed before last month and stole 3 grand and painkillers.
In Fresh Meadows, a man tried to sneak into a burger chain restaurant at 2:30 a.m. as the late nite crew was busy and attempted to rob the cash register.
In Long Island City, the new condensed Metropolis, a couple having an argument on the street escalated when the man attempting to shoot his girlfriend missed and hit a woman coming out of a subway station nearby.
Also in Long Island City, a man held up a gas station at gunpoint and robbed it of a grand, then went to another gas station in Briarwood, did a stick-up at that one also and stole $300.
Again in Long Island City, a man was struck by a hit-and-run driver as he entered the crosswalk on a street corner, unable to move his legs.
And again in L.I.C., a homeless man was found dead under the elevated train tracks from a heroin overdose.
And again in L.I.C, a man followed a woman on the street and lifted her skirt and ran away. Like something from the end credit roll scene in a Benny Hill episode.
In Sunnyside, a homeless man was found dead at the Thomas P. Noonan playground.
Also in Briarwood, a man creeped up behind a bodega worker demanding money then stole $600 from the cash register.
In Little Neck, a man was found dead on the boulevard with a head wound at 9:40 a.m.
In Flushing at the World's Fair Marina, a man was found dead on the rocks by the river.
Also in Flushing by Kissena Park, two teenage males are involved in four muggings in three days, robbing two cellphones and one wallet.
Again in Flushing, a man broke into a senior center at 2:30 a.m. and stole cash, phones and laptops.
In Springfield Gardens, two men getting high on meth and banging each other in box truck sped off and crashed into a parked vehicle and a fence when one of the men's lover showed up and cock-blocked them.
In Woodside, two men held up a Pizza Hut at gunpoint and robbed $160, then went to Flushing and stuck up a deli and robbed it of  two grand.
In Jamaica Hills, a man being prowled by two men in hoodies got was shot twice and killed in front of a house at 6:40 p.m.
In Bayside, a woman got killed by a service train on the LIRR tracks she was walking on at 12:30 a.m.
Also in Bayside at the Benjamin Cordozo High School, a fight between two girls involved the throwing of bleach which injured 4 other students including themselves.
In Hunters Point by the Midtown Tunnel, a former cop from New Mexico, who was fired for stealing gas for his girlfriend, trying to enter was stopped for not having a plate in the front of his vehicle and registration and found to be possessing an unlicensed gun and impersonating a police officer.
And again at the Midtown Tunnel in Hunters Point, two men in a Mercedes Benz stopped for having no front license plates and having pot visible on the console, tried to escape in the tunnel but were immediately caught by patrol cars surrounding them.
On Rikers Island, a man retrieving a snack he hid in the showers was attacked by another inmate and slashed in the face.
In Forest Hills, a 66-year-old man and his 93-year-old mother were both found dead in their apartment.
Brooklyn
In East Flatbush, a man who got shot to death in his house turned out to be one of the creators of the famed dance and viral video craze "The Harlem Shake"
Also in East Flatbush, a man took a table leg to another man and beat the shit out of him when he caught him having sex with a woman he banged before because he they started the menage a trois without him.
In Sunset Park by Industry City, the capital of dubious innovation, a man slashed and bit another man on the street after an argument that was incited by the attacker.
In Bed-Stuy, a man was shot at four times in front of a public housing building and died.
Also in Bed-Stuy, cops were shot at by a gunman when they were patrolling the roof of the Stuyvesant Gardens Houses the moment after they stepped out the door. The building where two mothers were killed during a courtyard party last year.
Again in Bed-Stuy, a 13-year-old riding his bike was killed by an unlicensed driver operating an oil truck. The driver is a recidivist and defiantly reckless driving dick who brags about his exploits on his social media platform.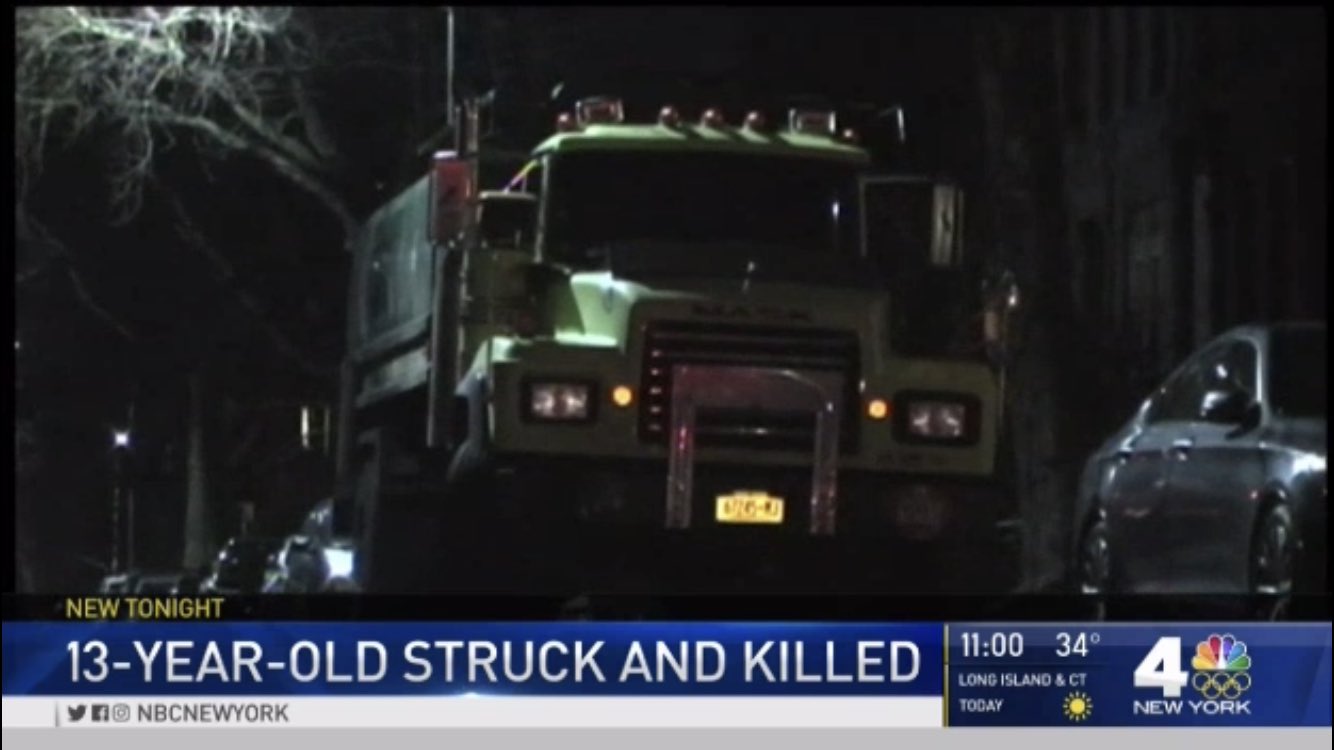 And again in Bed-Stuy at the Sumner Houses, a NYCHA maintenance worker was attacked by two men who stabbed her and stole her cellphone and wallet.
And again in Bed-Stuy, a man was shot at three times point blank in the chest when he stepped out of a bodega after ordering a sandwich around noon and died.
In Park Slope, home of The Dope, a man held up a bank and robbed it by handing the clerk a threatening note.
In Canarsie, a man was shot to death as he sat in his car at 8:40 a.m.
Also in Canarsie at P.S. 66, a teacher bit a child on the arm in class because the student bit her first.
In Park Slope, home of The Dope, a man held up a bank and robbed it by handing the clerk a threatening note.
In Sheepshead Bay, a drug dealing operation was discovered at a public housing building that was able to move their product from help from a staff worker at NYCHA.
Also in Sheepshead Bay, a man who robbed a bank in Park Slope a week ago tried to do it again in this neighborhood. Two teenage males were assaulted and had their cellphones stolen by two men
Again in Sheepshead Bay, two fancy expensive cars crashed into each other in an intersection.
In Cypress Hills, two men, one wearing a federal government issue law enforcement vest, broke into a house by claiming to be police, held a gun up to a woman and zip-tied three children and stole sneakers, a camera and a jar of coins. (What a heist, dickheads)
Also in Cypress Hills, a four-story apartment building went on fire from an overloaded battery charged scooter, causing injuries to 17 residents including two kids. Reportedly the fire alarms inside were not working.
In Midwood, a young woman was found left for dead from an overdose and bloodied on the sidewalk with her pants down and her shirt up.
In Brownsville, a 16-year-old girl got knocked over by a speeding hit-and-run driver when it sharply turned as she crossed the street at 7 in the morning.
In Crown Heights, two elderly twin sisters were found dead in their home, discovered by the FDNY after they answered emergency calls from neighbors about water entering their homes. Which was traced to a burst pipe from the deceased women's basement.
Also in Crown Heights, an argument in a grocery store escalated when a man punched another man in the face, knocking him down on the floor.
Again in Crown Heights, a fire engulfed an two abandoned apartment buildings.
In Brooklyn Heights, a man robbed a bank of $2,500 by handing the teller a note.
Also in Brooklyn Heights, a man accessed an apartment building and robbed a laptop.
In Clinton Hill, a woman is somehow evading felony grand larceny charges for ripping off her investors of $350,000 from her bullshit workspace startup and is lampin' in her boyfriend's apartment.
In Williamsburg, an off-duty cop attempted suicide by shooting himself in his car after a spat with his ex-girlfriend.
Also in Williamsburg, a man attempted to snatch a purse off a woman in broad daylight.
In Bath Beach, a three alarm fire broke out in a building at a quarter to four in the morning, damaging four stores.
In East New York, a 17-year-old boy accidentally shot his younger brother in their house with a gun that he got so he can protect himself from others in his neighborhood.
Also in East New York, a man residing at a homeless shelter hotel was found dead in his room of a heroin overdose.
Again in East New York, a two-year-old girl and a 3-year-old boy were left alone in an apartment with three people getting high, malnourished, and living in squalor under their parents who were loaded at the time the cops took the kids away from them.
And again in East New York, a beheaded chicken was found at a church that has seen incidents of over decapitated birds being left there.
In Bushwick on the DeKalb Avenue station, a man had a seizure on the platform and fell over and got hit by the arriving train.
In Downtown Brooklyn, a man trespassing in Metrotech center at 5 a.m. sicced his pit bull at a cop trying to stop him. The cop then shot at the dog but missed so there is a vicious dog running free around the priciest area of the borough.
In Greenpoint, some rascal vandalized a pole with a dangling no standing sign and added more creative and overtly demanding ones beneath it.
Bronx
In Soundview, a man shot at another man in the middle of the street and continued to shoot him as he chased him around the block.
Also in Soundview, a man beat up his 4-year-old daughter with a baseball bat during a domestic dispute with his wife because he was having trouble getting a job and earning money in this goddamn city.
In Morris Park, a man pulled out a shotgun in a bank at 10:25 a.m. and robbed it of 8 large.
In Mott Haven, a livery cab driver was stabbed in the neck and had his car stolen by his passenger who claimed he was going to meet his parole officer and feigned to be calling someone to pay his fare.
Also in Mott Haven, a man brutally beaten, bloodied and left for dead on the sidewalk died from his injuries.
In Morris Heights, a man was shot and killed in front of the Sedgwick Houses where he performed and made videos as a rapper.
In Tremont, a woman killed her boyfriend by stabbing him in the chest after she accused him of cheating on her.
In Highbridge, a man was stabbed in the chest following an argument with another man in his apartment building.
In Belmont, a man attacked his landlord and another man with a box cutter and a machete when he was told he was getting evicted from his apartment. When the cops showed up to arrest the man, he was wielding a serrated knife at them. The cops then shot the man who refused to put his weapon down. The man died later from his wounds.
Also in Belmont, a man got shot in the face and killed when he went to an apartment building to buy pot.
In Hunts Point at the New York Expo Center, a tribute concert for a deceased rapper was disrupted by a brawl and gunshots.
In Woodstock, a family of eight's home was invaded by two armed men and a woman who broke in by setting up a package delivery as they pistol-whipped the father, zip-tied all of them and stole $5,500.
In Longwood, a man held up at gunpoint and sexually assaulted a woman in an apartment building stairwell.
In Bronxdale, a man and woman robbed a cab driver of his tablet and $250 when the mugger held a knife to his neck.
In Pelham Parkway, a man claiming to be Captain America yet devoid of shield but possessing a crossbow (yeah, why didn't claim to be Arrow), robbed a bank of $7,210 and got caught when he was bragging about the heist in a pizzeria.
In Pelham Bay, a man stalked an 11-year-old girl to her apartment building and masturbated in front of her in the elevator.
In Fordham Heights, a off-duty cop saw a man getting beat down on the street then followed the thug where he met two other men who robbed the beaten victim earlier. The officer called his sergeant and managed to corner the trio and assisted in arresting them.
In Fordham Manor, a four-alarm fire on the sixth floor of an apartment building leaves 40 people without a home in the brutal cold.
In Morrisania at a martial arts school, a karate instructor molested two 6-year-old girls by a bathroom.
In Kingsbridge, a 5-year-old boy was left alone in an apartment infested with bugs, rats and feces and no food to eat while his mother was at work at a hospital and his older siblings and father were not around.
In New Rochelle, a 15-year-old boy stabbed another student twice after a fight in school and ran off.
In Parkside, a drunk driver speeding on the street t-boned another car causing a five car crash in the process, killing a man.
Staten Island
In New Brighton, two Boy Scout leaders turned out to be drug dealers and got arrested  for possession of over 270 bags of heroin, scales,baggies, a shotgun and an air pistol.
In Tottenville, a 14-year-old girl was savagely beaten by another girl at a high school despite prior warnings of a confrontation between the two and pervasive bullying going on daily.
In Stapleton, a man grabbed an 11-year-old girl in an apartment building then ran away when the girl managed to escape his grasp.
R.I.P. Jesse "Smiley" Rutland, originator that inspired the world's population and perhaps the only viral meme to stand the test of time, that even FCC Commissioner Ajit Pai couldn't ruin it (though he tried).
Con los terroristas! Ey!