Middle Village, Queens, New York
A pleasant weekend evening in the borough of Queens devolved into another incident of the gun violence that is still persistently casting it's shadow on the streets of New York City. This time the violence came to Middle Village, where a shuttered commercial property that once was home to a hardware store that went out of business 2 years ago.
In recent days, or maybe longer according to area residents complaints, the vacant property has been re-appropriated as a pop-up event space for DJ and bottle parties where high end booze is consumed in mass quantities. Basically these are glorified but unregulated nite clubs, no different than the speakeasies of the last 20's this nation went through last century. From the looks of this place, the entrance to the event space was in the back.
Apparently, words were said or some other thing provoked the throngs gathered at the party and escalated into a brawl outside of the rear entrance of the shuttered hardware store on a residential block. Then there was a vehicle pursuit and some guy pulled out a gun and shot another man during a drive-by at an intersection by a cemetery on Juniper Valley Road and 69th St.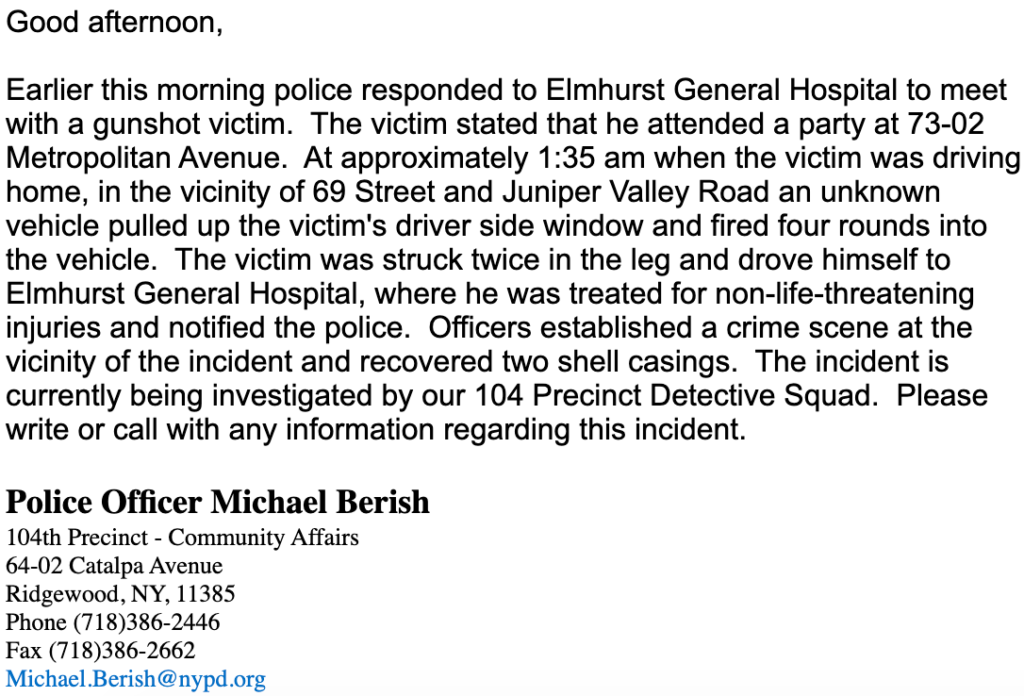 This is where the drive-by shooting happened.
The local area newspaper Juniper Park Civic immediately had the scoop, naturally because it's base is right there where the incidents occurred. The Civic also updated their tweets to include a DOB record of a violation given for a complaint over a month earlier for illegal partying in the former hardware store.
Given that this was another incident adding to the city's continuing gun crisis and increasing rise in unabated shootings in the face of the equal rise in gun possession arrests, compounded by the fact that a building landlord would flout regulations and violations by continuing to permit illicit parties in his space, it would be wholly inconceivable if this wasn't picked up by all the major local newspapers and news websites and even the other Queens weekly periodical newspapers.
But it was conceivable. Because despite the severity of the crimes committed and of gun violence being a daily occurrence in the five boroughs, the NY Post didn't cover it, the NY Daily News didn't cover it, Gothamist didn't cover it, QNS, Queens Chronicle, Queens Post and Ridgewood Post didn't cover it. Hardly any local Queens blog covered it (sans Queens Crap, which my ally and original Queens Crapper dutifully posted Junipers tweet immediately with a deliciously sardonic headline). 
What's off-putting is that any report of a shooting these days (and the last four years since it's meteoric rise pre-pandemic) gets published immediately on the news web pages without even a full story of the victims and perpetrators. Here we have a police record, an on the spot account video and a man who got hit 4 times in a drive-by and with the suspect (and accomplices) still on the loose; there really shouldn't be this much media indifference. It's a wonder why this got shadowed, is it the neighborhood which is predominantly middle class, White and home to a sizeable populace of NYPD and FDNY, and is mostly supportive of those agencies, particularly the latter? Is there something about the status of the victim that could need protection? 
Or is the NYPD being opaque for some reason. In most recent days, the NYPD has been engaging in questionable behavior regarding crimes happening in real time under their noses, like how hundreds of people ran for cover after a shots went off in Times Square that cops determined was a planter that fell during a tussle between some thugs despite an eyewitness interviewed by major news outlets who was certain it was a gun. There was also a case of a man who got stabbed by a woman during a domestic dispute at a supportive housing building and was sent to be processed for lockup and then died at a NYPD precinct of a fentanyl overdose instead of being treated at a hospital for his open wound. So even though there's an ongoing investigation of this Juniper Valley drive by shooting, it's a wonder why no one has been I.D.'d yet.  Especially the victim. Although for the assailant, it wouldn't be remiss to assume that all those patrons weren't going to rat him out. 
Although what did get some media attention was the commercial property. As covered by the Queens Chronicle, Council Member Robert Holden noted complaints from residents for weeks about the racket and myriad other nuisances from the corner store. But yet again the shooting was not mentioned, which is startling considering a rise in gun violence this spring and summer that have occurred at these closed small business stores which has been chronicled on the New Bad Days blotter posts this year.
But now that the focus is on the illegal misuse of commercial space for events, it's quite noticeable given the recent frequency of shootings during these illicit party places that there isn't a media or activist backlash to them. Or even the expected fearmongering that would blow back from them. So it should be worth noting that these modern day hiding in plain sight speakeasies falls entirely in line with the city's economic recovery from the pandemic as conceived by the Night Mayor of NYC Ariel Palitz and the Night Parliament Office of City Nightlife to turn any vacant or unused space that's closes at dark to vibrant leisure and party venues:
New York's nightlife czar is pushing to create 24-hour "entertainment districts," where it would be OK for booze to flow, bass to thump and bodies to sway around the clock.
"Everything is on the table right now," said Ariel Palitz, who runs the city's Office of Nightlife.
"We do know that 24-hour usage is very successful in other parts of the world. People say it might be terrible for quality of life, but in fact we found the opposite."
The nightlife study, drafted by Palitz's in-house team, "recommends identifying potential areas with low residential density where a limited 24-hour program might be tested, allowing late-night activity to operate free from nuisance complaints or other conflicts."
She pointed to Times Square as having the obvious potential for all-night carousing.
"Watching Times Square come to a standstill during the pandemic was heartbreaking," Palitz told The Post.
And also residential areas like Middle Village.
And there is the P word again. The current mayor, the obeisant shitlib council cronies and the real estate lobby proxy Economic Development Corporation and Hospitality industrial complex patsy Andrew Rigie have been repetitiously citing the pandemic to bring back all the vibrancy and culture that was lost in the last few years to COVID and the Delta Variant that they were willing to throw all regulations and community input into the garbage in the name of re-imagining New York City by filling the streets with shanties for restaurants to recover all their losses, so why not have the Department of Buildings look the other way, make feckless investigations or even take some bribes  to overlook some wild parties going on in abandoned stores all over the five boroughs to fulfill the Blaz's recovery for all of us agenda as his NYPD will do an obligatory drive by and cruise along if no one in sight is getting harmed. Of course there's that vaccine mandate, so I'm sure people are getting their vax cards checked right?
And there are a LOT of zombie small business stores out there ripe for re-imagining.
To paraphrase my ally Queens Crapper droll and apt take on this shooting, what's going on now is a culture of insouciance in all agencies involved. They seem to be more motivated to mitigating the violence and illegal use than putting an actual halt to it and it's all tied to the city's desperation to revive itself as a wider leisure and cultural destination beyond Manhattan and to also try to keep up with (and surpass) other famous party town destinations like New Orleans and Miami and cultural capitals like Paris and Amsterdam. And trying to do this as COVID cases continue to remain steady and guns keep coming to the town. 
And since these party places aren't regulated and continue to pop up regulary, guns and COVID are still going to be a disruptive presence on the citizenry and the revelers of course. Then the agencies involved will surely continue re-imagining that nothing unusual, dangerous or contagious is going on.
New Bad Update:
A few nights after the Queens Chronicle article about the community's complaints about the closed business cum pop up nite club, another illicit party went on with total impunity.